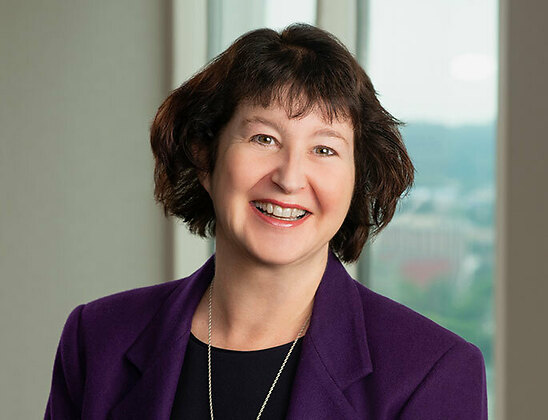 Karen
Ann
Jacobs
View All Practices
With more than thirty years of litigation experience, Karen's practice focuses primarily on patent infringement litigation before the Delaware District Court. She serves on Morris Nichols' Executive Committee and was formerly Practice Group Coordinator of the firm's Intellectual Property Litigation Group.
Karen's trial experience as an IP litigator includes both lead counsel and co-counsel roles where she has secured favorable outcomes at the district court level, on appeal to the Federal Circuit, and through settlement negotiations.
Karen's clients cover a range of industries, including pharmaceuticals, life sciences, biotechnology, electronics, computer software, telecommunications, and consumer products. Her representative clients include Thermo Fisher, Facebook, Instagram, Amazon.com, Genentech, Shire Pharmaceuticals, Sunovion Pharmaceuticals, Motorola Mobility, Vanda Pharmaceuticals, ON Semiconductor, and PCM.
In addition to handling patent disputes, Karen also has experience in a variety of other intellectual property and commercial litigation areas, including copyright, trademark, trade secret, unfair competition, and contract and licensing disputes.
She has been recognized as an intellectual property law leader by Chambers USA, The Best Lawyers in America, Delaware Super Lawyers, Managing IP, and others.
Karen has long been an activist in a variety of community activities and is a recipient of the Delaware State Bar Association's Community Service Award.
In her support of health and wellness initiatives, Karen serves as chair of the Delaware State Bar Association (DSBA) Professional Guidance Committee, which offers peer guidance and support to lawyers with practice-related or personal issues, and is a frequent speaker on lawyer wellness in this leadership role. She also serves on the Board of Directors of the Delaware Lawyers Assistance Fund and the Philadelphia Regional Advisory Board of the Caron Treatment Center.
Karen is also an avid advocate of legal representation for the poor. She is a board member and past president of Delaware Volunteer Legal Services. She also served as chair of the Combined Campaign for Justice, which benefits the three legal aid agencies in Delaware that serve low-income populations. She currently serves as Legal Community Section Chair of the United Way of Delaware. She also volunteers with Big Brothers, Big Sisters as a mentor at a local Wilmington elementary school and at the Joseph's Food Pantry at Congregation Beth Emeth.
A longtime champion for diversity and a leader in the Delaware Bar, Karen previously served as chair of the DSBA Women and Law Section. In 2009, Karen was the recipient of the organization's Women's Leadership Award, presented to a member whose character, strength, personality, achievement and activities in matters affecting women lawyers have served as an inspiration to and a model for women lawyers.
Experience
Served as lead counsel to life sciences company Thermo Fisher in multiple patent infringement and corporate actions.
Lead counsel to Sunovion Pharmaceuticals Inc. in actions involving Aptiom®.
Secured patent infringement victory for Siemens Mobility Inc. along with co-counsel Crowell & Moring following nine-day jury trial. Siemens Mobility Inc. v. Westinghouse Air Brake Technologies Corp. and Wabtec Railway Electronics Inc., D. Del., C.A. No. 16-00284 (LPS)
Delaware co-counsel to VANDA Pharmaceuticals in various ANDA patent infringement actions concerning the drug FANAPT® for treatment of schizophrenia.
Delaware co-counsel to Genentech in various ANDA patent infringement actions involving the drugs Esbriet and Alcensa.
Co-counsel to Waste Management in inventorship dispute.
News & Insights
A look back at patent filings, trials, decisions on key issues, and notable developments in the US District Court for the District of Delaware in 2022.
Media Mention

,

The Best Lawyers in America

,

08.18.2022

The Best Lawyers in America has released its 2023 edition, listing 35 attorneys from Morris Nichols. The results are based on peer-review evaluations from more than 71,000 eligible attorneys.

Media Mention

,

IAM Patent 1000

,

07.06.2022

"Always right in the thick of patent litigation action in Delaware," the 2022 edition of IAM Patent 1000 again recognizes Morris Nichols as a "gold" tier Delaware IP law firm.

Media Mention

,

Managing Intellectual Property's IP Stars

,

06.16.2022

Morris Nichols is listed in the highest tier for Delaware intellectual property law practices. IP litigators Jack Blumenfeld, Karen Jacobs, and Jeremy Tigan are recognized as Delaware "IP Stars."

Media Mention

,

Chambers USA

,

06.01.2022

Chambers USA has again ranked Morris Nichols in Band 1 for Bankruptcy/Restructuring, Chancery, Corporate M&A & Alternative Entities, and Intellectual Property.

Media Mention

,

Super Lawyers

,

05.25.2022

2022 Delaware Super Lawyers slected thirteen Morris Nichols attorneys for inclusion.

Media Mention

,

The Best Lawyers in America

,

08.19.2021

The Best Lawyers in America has released its 2022 edition, listing thirty-two attorneys from Morris Nichols. The results are based on peer-review evaluations from more than 66,000 eligible attorneys.

Media Mention

,

IAM Patent 1000

,

06.30.2021

"A force to be reckoned with in Delaware patent litigation," the 2021 edition of IAM Patent 1000 again ranks Morris Nichols' intellectual property group in its highest "gold" tier for Delaware IP law firms.

Media Mention

,

Managing Intellectual Property's IP Stars

,

06.23.2021

Morris Nichols is ranked in the highest tier for Delaware intellectual property law practices. IP litigators Jack Blumenfeld, Karen Jacobs, and Jeremy Tigan are recognized as Delaware "IP Stars."

Media Mention

,

Super Lawyers

,

05.26.2021

One dozen Morris Nichols attorneys have been selected for inclusion in 2021 Delaware Super Lawyers.

Media Mention

,

Chambers USA

,

05.20.2021

The 2021 edition of Chambers USA has again ranked Morris Nichols in the top tier in four Delaware practice categories.

Speaking Engagement

,

Webinar

,

04.16.2021

UIC John Marshall Law School's Center for Intellectual Property, Information & Privacy law hosts its annual IP Master Class, a comprehensive executive seminar series on critical and emerging areas of IP law.

Thirty-one Morris Nichols attorneys were recognized in the 2021 edition of The Best Lawyers in America. The results are based on peer-review evaluations from more than 67,000 eligible attorneys.

IAM sources espouse, "Morris Nichols continues to represent the gold standard when it comes to patent litigation in Delaware."

Media Mention

,

Managing Intellectual Property

,

03.27.2020

Wilmington, DE (March 27, 2020) - Yesterday, Managing Intellectual Property released the winners of its 2020 Americas Awards. Morris, Nichols, Arsht & Tunnell LLP partner Karen Jacobs was awarded the regional prize for "Outstanding Litigator: Delaware."

Wilmington, DE (August 15, 2019) - Thirty-five Morris Nichols attorneys were selected for inclusion in the 2020 edition of The Best Lawyers in America. The results are based on peer-review evaluations from more than 94,000 eligible attorneys.

Wilmington, DE (June 17, 2019) - The eighth edition of IAM Patent 1000 - The World's Leading Patent Professionals again ranks the Morris Nichols intellectual property litigation group in the highest tier for Delaware patent litigation.

Wilmington, DE (May 19, 2019) - Managing Intellectual Property has released 2019 Managing IP - IP Stars guide, ranking Morris, Nichols, Arsht & Tunnell LLP as a "highly recommended" Delaware IP law firm.

Fifteen Morris Nichols attorneys have been selected for inclusion in 2019 Delaware Super Lawyers. Derek C. Abbott and William M. Lafferty appear on the "Top 10" list recognizing the Delaware lawyers who received the highest point totals - with Bill designated as the "Number One" attorney on the Top 10. In addition, attorneys Eric S. Klinger-Wilensky and D. McKinley (Mac) Measley were recognized as Delaware Rising Stars.

Wilmington, DE (April 25, 2019) - The 2019 edition of Chambers USA: America's Guide to Leading Lawyers for Business has again ranked Morris, Nichols, Arsht & Tunnell LLP as a leading Delaware law firm in four practice categories.

Speaking Engagement

,

Rehoboth Beach, Delaware

,

03.01.2019 Through 03.02.2019

Publication

,

Ch. 5, Patent Litigation (3rd Edition), Practising Law Institute

,

09.2018

Wilmington, DE (August 15, 2018) - Thirty-three attorneys from Morris, Nichols, Arsht & Tunnell LLP were selected for inclusion in the 2019 edition of The Best Lawyers in America. The results are based on peer-review evaluations from more than 87,000 eligible attorneys.

Wilmington, DE (June 15, 2018) - Intellectual Asset Management ("IAM") has released the 2018 IAM Patent 1000 - The World's Leading Patent Professionals. The seventh edition reports "Morris, Nichols, Arsht & Tunnell is seen by many as the best of the best in Delaware" and ranks the firm in the highest, gold band for Delaware.

Wilmington, DE (May 18, 2018) - Seventeen Morris Nichols attorneys have been selected for inclusion in 2018 Delaware Super Lawyers. William M. Lafferty was ranked number one on the "Top 10" list for Delaware. In addition, attorneys Eric S. Klinger-Wilensky, Kimberly Gill McKinnon, D. McKinley (Mac) Measley, and Andrew R. Remming and Jeremy A. Tigan were recognized as Delaware Rising Stars.

Wilmington, DE (May 18, 2018) - Managing Intellectual Property has released the 2018-19 Managing IP - IP Stars guide, ranking Morris, Nichols, Arsht & Tunnell LLP in the highest tier for Delaware IP law firms. In addition to the top-notch firm ranking, Morris Nichols partners Jack Blumenfeld, Maryellen Noreika and Karen Jacobs were all listed as 2018-19 "IP Stars." Karen also earned recognition as one of the "Top 250 Women in IP."

Wilmington, DE (May 3, 2018) - Morris, Nichols, Arsht & Tunnell LLP has been ranked Band 1 in four Delaware practice categories in the 2018 edition of Chambers USA: America's Leading Lawyers for Business. The firm was ranked in the highest tier for Bankruptcy/Restructuring, Chancery, Corporate M&A & Alternative Entities, and Intellectual Property.

Media Mention

,

05.01.2018

Wilmington, DE (May 1, 2018) - The 2018 edition of Managing Intellectual Property's Top 250 Women in IP lists Morris, Nichols, Arsht & Tunnell LLP partner Karen Jacobs among leading female IP practitioners, and only one of two practitioners named in Delaware.

Wilmington, DE (August 15, 2017) - Thirty-two attorneys from Morris, Nichols, Arsht & Tunnell LLP were selected for inclusion in the 2018 edition of The Best Lawyers in America. The results are based on peer-review evaluations from more than 83,000 eligible attorneys.

Wilmington, DE (July 14, 2017) - Intellectual Asset Management ("IAM") has released the sixth edition of IAM Patent 1000 - The World's Leading Patent Professionals. The 2017 guide pronounces Morris, Nichols, Arsht & Tunnell LLP a "tier-one practice" brimming with "high-quality professionals who possess a wealth of knowledge and have illustrious records in court" and ranks the firm in its highest Gold band on the Delaware rankings table.

Wilmington, DE (May 26, 2017) - The 2017 edition of Chambers USA: America's Leading Lawyers for Business again ranked Morris, Nichols, Arsht & Tunnell LLP as a Band 1 law firm in the Delaware categories for Bankruptcy/Restructuring, Chancery, Corporate M&A & Alternative Entities, and Intellectual Property.

Wilmington, DE (May 23, 2017) - Managing Intellectual Property has once again ranked Morris, Nichols, Arsht & Tunnell LLP as a "highly recommended" Delaware IP law firm. The firm earned the highest possible ranking in the Managing IP - IP Stars (2017) guide. The publication deemed Morris Nichols, "one of the biggest IP groups in Delaware" with clients remarking on the firm's "great trial lawyers and strategists."

Wilmington, DE (May 12, 2017) - Sixteen Morris Nichols attorneys have been selected for inclusion to the 2017 Delaware Super Lawyers list. William M. Lafferty was named to the "Top 10" list for Delaware. In addition, attorneys Eric S. Klinger-Wilensky, Kimberly Gill McKinnon, D. McKinley (Mac) Measley, and Curtis S. Miller were recognized as 2017 Delaware Rising Stars.

Wilmington, DE (August 15, 2016) - Thirty attorneys from Morris, Nichols, Arsht & Tunnell LLP were selected for inclusion in the 2017 edition of The Best Lawyers in America®. The results are based on peer-review evaluations from more than 79,000 eligible attorneys.

Wilmington, DE (May 31, 2016) - Intellectual Asset Management ("IAM") has released the fifth edition of IAM Patent 1000 - The World's Leading Patent Professionals. The 2016 guide pronounces Morris, Nichols, Arsht & Tunnell LLP a "patent litigation powerhouse" and ranks the firm in its highest, Gold band on the Delaware rankings table.

Wilmington, DE (May 27, 2016) - The 2016 edition of Chambers USA: America's Leading Lawyers for Business again ranked Morris, Nichols, Arsht & Tunnell LLP as a Band 1 law firm in the Delaware categories for Bankruptcy/Restructuring, Chancery, Corporate M&A & Alternative Entities, and Intellectual Property.

Wilmington, DE (May 24, 2016) - Managing Intellectual Property has once again ranked Morris, Nichols, Arsht & Tunnell LLP as a "highly recommended" Delaware IP law firm. The firm earned the highest possible ranking in the Managing IP - IP Stars (2016) guide. The publication deemed Morris Nichols, "one of the biggest IP groups in Delaware" with clients remarking on the firm's "tremendous experience in patent litigation."

Wilmington, DE (May 13, 2016) - Seventeen Morris Nichols attorneys have been selected for inclusion to the 2016 Delaware Super Lawyers list. Jack B. Blumenfeld was named to the "Top 10" list for Delaware. In addition, attorneys Eric S. Klinger-Wilensky, D. McKinley (Mac) Measley, Curtis S. Miller, and Matthew R. Clark were recognized as 2016 Delaware Rising Stars.

Wilmington, DE (May 3, 2016) - Six partners from Morris, Nichols, Arsht & Tunnell LLP have been included in Best Lawyers Business Edition's list of 2016 Women in the Law. Featuring peer-nominated attorneys in 140 practice areas, the list is part of the inaugural Best Lawyers Business Edition publication, produced in collaboration with the women's legal advocacy organization Ms. JD.

The 2016 Women in the Law results are based on peer-review evaluations from more than 79,000 eligible attorneys and features all female attorneys listed in The Best Lawyers in America 2016. The six Morris Nichols partners selected for inclusion focus their practices on various business law areas, including bankruptcy, restructuring, corporate counseling, corporate litigation, and IP.

Wilmington, DE (January 6, 2016) - Morris, Nichols, Arsht & Tunnell LLP partner Karen Jacobs has been named a Fellow of the American Bar Foundation. An honorary organization of attorneys, judges, law faculty, and legal scholars, the Fellows demonstrate outstanding achievements and dedication to the welfare of their communities and to the highest principles of the legal profession.

Speaking Engagement

,

Wilmington, Delaware

,

05.21.2015

San Francisco, CA

,

07.14.2010
Honors & Recognitions
Chambers USA: America's Leading Lawyers for Business, ranked in Delaware for intellectual property, 2005-2022
IAM Patent 1000: The World's Leading Patent Practitioners, ranked in Delaware, 2014-2022
Managing Intellectual Property, IP Star, 2014-2022; named one of the Top 250 Women in IP, 2014-2021; recipient of the "Outstanding Litigator: Delaware" award at the MIP Americas Awards, 2020
The Best Lawyers in America, listed in Delaware intellectual property and patent litigation, 2011-2023
Best Lawyers Business Edition: Women in the Law, 2018-2019
Delaware Super Lawyers, listed in intellectual property litigation in Delaware, 2007-2022
Who's Who Legal: Patents, listed, 2014-2019
Professional & Civic
American Bar Association (Intellectual Property Law Section)
American Bar Foundation (Fellow)
American Civil Liberties Union of Delaware (Former Board Member)
American Intellectual Property Law Association
Big Brothers, Big Sisters of Delaware (Mentor)
Caron Treatment Centers, Philadelphia Regional Advisory Board
ChIPs - Advancing Women in IP
Congregation Beth Emeth (Board Member)
Combined Campaign for Justice (Former Chair)
Delaware Lawyers Assistance Fund (Board of Directors)
Delaware State Bar Association (Professional Guidance Committee (Co-Chair), Women in Law Section (Chair, 1994-1995; Executive Committee, 2009-2012))
Delaware Volunteer Legal Services (Past Board Member and Past President)
Federal Circuit Bar Association
Governor's Task Force on Early Care and Education (2001-2003)
Governor's Panel on Workers Compensation Oversight (Former Appointee)
Litigation Counsel of America (Fellow)
United Way of Delaware (Legal Community Sector, Chair)
Education
Harvard Law School, JD, cum laude, 1990
Ames Moot Court Competition, finalist
University of Pennsylvania, BA, summa cum laude, 1987
Admissions
Delaware, 1990
US District Court for the District of Delaware, 1991
US Court of Appeals for the Third Circuit, 1991
US Court of Appeals for the Federal Circuit, 1998
US Supreme Court, 2000
"Karen has a brilliant legal mind and she is very experienced." "An impressed source says: 'She is super prepared and has a deep knowledge of what you need to do to practice in Delaware and how to approach cases.'" - Chambers USA 2022 and 2019