Litigation Suite
The Morris Nichols Litigation Suite for visiting counsel features either 1,500 sq ft or 8,000 sq ft of state-of- the-art technology. Your legal team will benefit from both individual offices that provide comfortable space for confidential matters as well as over-sized multi-purpose rooms which afford a collaborative war-room environment when necessary.
The Morris Nichols Litigation Suite is conveniently located in the heart of downtown Wilmington—all within walking distance of courthouses and overnight accommodations.
Serving some of the country
'

s largest law firms including:

Setting the standard
From pre-arrival planning to onsite support and access to miscellaneous sundries, our client service experience offers you a personal touch second to none.
Plug & Play Environment
Simply connect your laptop to access our highspeed color printers and copiers on a dedicated 1GB wired and wireless network with redundant backup. Each workstation includes dual 24" monitors, KB, mouse, phone, and docking station.
more than just office space
A good war room needs more than just a desk and a chair. The Morris Nichols Litigation Suite has everything you need for a productive trial, hearing, or local meeting.
Our Litigation Suite amenities include multiple conference rooms with video conferencing, projectors, and large-screen TVs that make it easy to connect and collaborate with others. With high-speed color printers and copiers, you can forgo outsourcing and easily produce all trial documentation in-house.
The Litigation Suite also includes individually controlled HVAC with afterhours override, a fully stocked kitchen, general office supplies, in-house catering service, IT support, shredding service, 24-hour secure keycard access, and twice daily cleaning.
Pre-Trial & Post-Trial Services
We understand the importance for you to "hit the ground running" and we also know that cleanup is never fun. Our Litigation Support team will be there to assist upon your arrival and when it's time to leave they will provide post-trial cleanup, shredding, recycling, and shipping as needed.
rates
Configurations are available from 1,500 sq ft to 8,000 sq ft. Rates available upon request. Contact David Kelley at dkelley@morrisnichols.com or call 302-351-9220 for more information.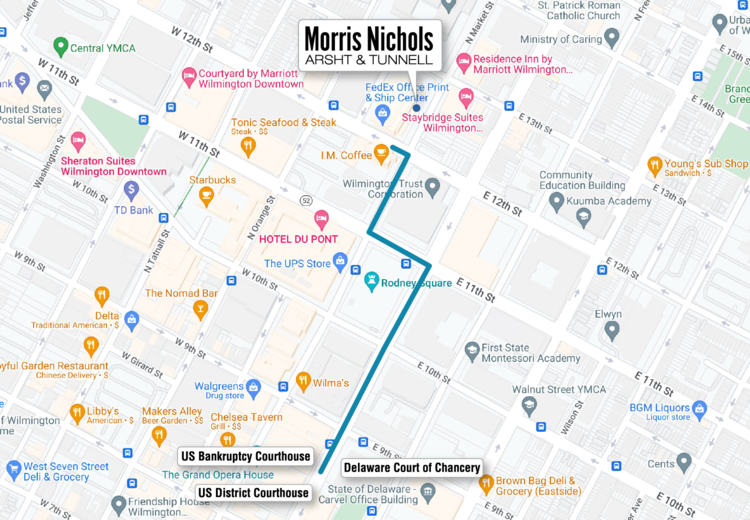 CONVENIENTLY LOCAtED
Morris Nichols is conveniently located near Wilmington hotel accommodations and courthouses.
1201 North Market Street, Wilmington, DE
CONTACTS
David Kelley, Litigation Technology & Trial Support Coordinator
302-351-9220 | dkelley@morrisnichols.com
Itala Murphy, Trial Support Coordinator
302-351-9676 | imurphy@morrisnichols.com