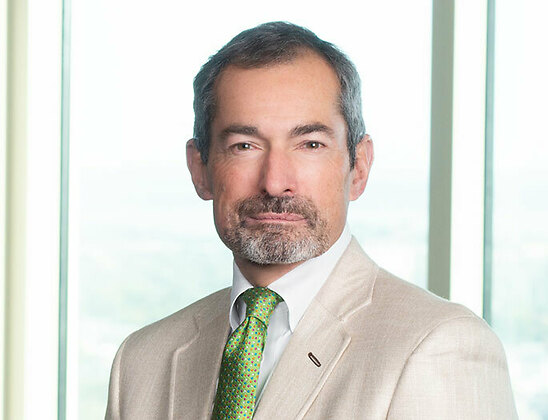 Lou is actively involved in the organization and structuring of all forms of Delaware alternative entities.
His practice includes mergers and acquisitions, with an emphasis on structures involving alternative entities, and the delivery of third-party legal opinions in connection with the full spectrum of Delaware contracts.
He works with private equity, hedge and mutual funds in connection with their formation and operation including, TPG Capital, Global Infrastructure Partners, OppenheimerFunds, Inc., Prudential Mutual and BlackRock. He also regularly represents sponsors and conflicts committees of master limited partnerships, including Enterprise Products Partners, EQT and Landmark Infrastructure Partners.
Active in Delaware and national legal associations, Lou is a member and past chair of the Partnership and Limited Liability Company Committee of the Corporate Law Section of the Delaware State Bar Association (DSBA), which is responsible for annually reviewing and updating Delaware's partnership and LLC statutes, and chair of the Statutory Trust Committee of the Commercial Law Section of the DSBA, which is responsible for reviewing and updating Delaware's statutory trust act. He is also a member of the American Bar Association (ABA)'s Committee on LLCs, Partnerships and Unincorporated Entities of the Business Law Section, the Opinion Committee of the Business Law Section of the ABA, the Board of Directors of the Working Group on Legal Opinions and the TriBar Opinion Committee.
Lou is a frequent speaker and writer on alternative entity and opinion matters. His publications have appeared in Bloomberg BNA, Law360, and Practical Law.
Experience
Advised global investment management company on various alternative entity matters, including two closed-end fund IPOs in 2019 and 2020, as well as several mutual fund reorganizations.
Represented the conflicts committee of American Midstream Partners, LP, a publicly traded MLP, in connection with the acquisition by an affiliate of ArcLight Energy Partners Fund V, L.P. of all the public MLP interests.
Represented the special committees of the board of directors of Canadian multinational energy transportation company in an alternative entity transaction to acquire all outstanding common units of two U.S.-listed entities for $3.5 billion worth of its stock.
Represented TPG in launching its flagship private equity fund.
Represented conflicts committee of Tallgrass Energy, LP, a midstream energy infrastructure company, in acquisition to purchase its publicly-held Class A Shares.
Represented Equitrans, one of the largest natural gas gatherers in the United States, in a simplification transaction involving two MLPs.
Advised a special committee in simplification and drop-down acquisition transactions involving Western Gas entities to acquire all the publicly held common units and substantially all units owned by Anadarko Petroleum Corporation.
Represented a global investment management corporation in connection with its acquisition of a retirement fund portfolio.
Represented Koch Industries in connection with its acquisition of Genesis Robotics.
Represented the conflicts committee of Archrock Partners L.P. publicly traded master limited partnership (MLP) in connection with the acquisition by the parent of the MLP's general partner of all the public MLP interests.
Represented the conflicts committee of Holly Energy Partners, LP, a publicly traded MLP, in an incentive distribution rights (IDR) simplification agreement.
Represented Pisces Midco, Inc. and its Delaware subsidiaries on various aspects of financing of acquisition of Ply Gem Holdings Inc.
Represented the sponsors of Tallgrass Energy Partners, L.P. and EQT Midstream Partners, LP in the formation of MLPs.
Represented global asset fund manager in moving its fund complex to Delaware.
Advised publicly traded MLP in acquisition of its general partner, Memorial Resource Development Corp.
News & Insights
Media Mention

,

The Best Lawyers

,

08.17.2023

The Best Lawyers in America has released its 2024 edition, listing 39 attorneys from Morris Nichols. The results are based on peer-review evaluations from more than 76,000 eligible attorneys.
Media Mention

,

The Legal 500 US

,

06.07.2023

The Legal 500 US, a nationwide guide to the foremost law firms in the United States has again ranked Morris Nichols.

Media Mention

,

Chambers USA

,

06.01.2023

Chambers USA has again ranked Morris Nichols in Band 1 for Bankruptcy/Restructuring, Chancery, Corporate M&A & Alternative Entities, and Intellectual Property.

Event

,

London, England

,

03.12.2023 through 03.14.2023

Lou Hering will speak on the "Fiduciary standards applicable to investment managers" panel.

Article

,

Bloomberg Law

,

11.2022

In 2022, the Delaware legislature passed a number of amendments to the state's "alternative entity" statutes—the Delaware Revised Uniform Partnership Act (DRUPA), the Delaware Revised Uniform Limited Partnership Act (DRULPA), the Delaware Limited Liability Company Act (DLLCA), and the Delaware Statutory Trust Act (DSTA).

Media Mention

,

The Best Lawyers in America

,

08.18.2022

The Best Lawyers in America has released its 2023 edition, listing 35 attorneys from Morris Nichols. The results are based on peer-review evaluations from more than 71,000 eligible attorneys.

Media Mention

,

The Legal 500 US

,

06.08.2022

Morris Nichols was again ranked in The Legal 500 US, a nationwide guide to the foremost law firms in the United States.

Media Mention

,

Chambers USA

,

06.01.2022

Chambers USA has again ranked Morris Nichols in Band 1 for Bankruptcy/Restructuring, Chancery, Corporate M&A & Alternative Entities, and Intellectual Property.

Media Mention

,

Lawdragon 500

,

05.12.2022

Lawdragon 500 released its second annual list of Leading Dealmakers in America. Six Morris Nichols partners have been included in the list, accounting for one third of the Delaware honorees.

Speaking Engagement

,

Virtual | Atlanta

,

03.31.2022 through 04.02.2022

The American Bar Association hosts their hybrid Business Law Section spring meeting from March 31-April 2, 2022. Three Morris Nichols partners will participate as committee leaders and speakers.

Speaking Engagement

,

Virtual

,

11.19.2021

Lou Hering will present Delaware law updates at the LLC Institute.

Media Mention

,

The Best Lawyers in America

,

08.19.2021

The Best Lawyers in America has released its 2022 edition, listing thirty-two attorneys from Morris Nichols. The results are based on peer-review evaluations from more than 66,000 eligible attorneys.

Article

,

Bloomberg Law

,

08.01.2021

In its 2021 session, the Delaware legislature passed a number of amendments to the Delaware General Corporation Law (DGCL) and the Delaware "alternative entity" statutes—the Delaware Limited Liability Company Act (DLLCA), the Delaware Revised Uniform Limited Partnership Act (DRULPA), and the Delaware Revised Uniform Partnership Act (DRUPA). The amendments to the DGCL, the DLLCA, the DRULPA, and the DRUPA became effective on August 1, 2021.

Media Mention

,

The Legal 500

,

06.10.2021

Morris Nichols was ranked in The Legal 500 US, a nationwide guide to the foremost law firms in the United States.

Media Mention

,

Chambers USA

,

05.20.2021

The 2021 edition of Chambers USA has again ranked Morris Nichols in the top tier in four Delaware practice categories.

Media Mention

,

Lawdragon 500

,

05.12.2021

Lawdragon 500 recently released its inaugural list of Leading Dealmakers in America. Six Morris Nichols partners were selected for inclusion, comprising one third of the Delaware honorees.

Media Mention

,

Private Equity Law Report

,

04.20.2021

Morris Nichols partner Lou Hering shared his insights from working with mutual fund entities as well as in the PE space.

Speaking Engagement

,

Virtual

,

April 19, 2021 through April 23, 2021

The American Bar Association hosts the Business Law Section virtual spring meeting from April 19-23, 2021. Three Morris Nichols partners will attend the conference as committee leaders and speakers, sharing insights on alternative entities, Delaware corporate law, fiduciary duties, and special purpose acquisition companies (SPACs).

Article

,

2021 Annual Meeting of ABA, Section of Business Law

,

02.15.2021

Morris Nichols prepares an annual summary of recent Delaware cases that address significant alternative entity issues.

Speaking Engagement

,

Virtual

,

11.13.2020

Morris Nichols partner Lou Hering will co-present the "Delaware Case Law Update" on November 13.

Article

,

Bloomberg Law

,

10.01.2020

In its 2020 session, the Delaware legislature passed a number of amendments to the Delaware General Corporation Law and the Delaware "alternative entity" statutes—the Delaware Limited Liability Company Act, the Delaware Revised Uniform Limited Partnership Act, the Delaware Revised Uniform Partnership Act and the Delaware Statutory Trust Act.

Thirty-one Morris Nichols attorneys were recognized in the 2021 edition of The Best Lawyers in America. The results are based on peer-review evaluations from more than 67,000 eligible attorneys.

The Delaware Supreme Court recently decided the case of Murfey v. WHC Ventures, LLC, No. 294, 2019 (Del. July 13, 2020), which involved a dispute over whether the plaintiff limited partners were entitled to certain books and records under the partnership agreement in question.

The Legal 500 United States today released its 2020 edition, ranking Morris, Nichols, Arsht & Tunnell LLP in its nationwide guide to the foremost law firms in the United States.

Publication

,

Bloomberg BNA: Corporate Practice Portfolio Series

,

12.04.2019

Morris Nichols partners Lou Hering, David Harris, and Jason Russell are coauthors of the Bloomberg BNA Corporate Practices Series Portfolio, Limited Liability Companies: Legal Aspects of Organization, Operation, and Dissolution. Morris Nichols attorneys Sean Sullivan and Melanie Young are also acknowledged for their significant contributions.

Speaking Engagement

,

Tampa, Florida

,

11.07.2019 Through 11.08.2019

Article

,

Bloomberg Law

,

09.09.2019

In its 2019 session, the Delaware legislature passed a number of amendments to the Delaware General Corporation Law and the Delaware "alternative entity" statutes - the Delaware Limited Liability Company Act, the Delaware Revised Uniform Limited Partnership Act, and the Delaware Revised Uniform Partnership Act.

Wilmington, DE (May 29, 2019) - The Legal 500 United States released its 2019 edition today. Morris, Nichols, Arsht & Tunnell LLP is once again "highly rated" in the nationwide guide to the foremost law firms in the United States.

Speaking Engagement

,

Vancouver, British Columbia

,

03.28.2019 Through 03.30.2019

Speaking Engagement

,

London

,

03.10.2019 Through 03.12.2019

Article

,

2019 Annual Meeting of ABA, Section of Business Law

,

02.08.2019

Morris Nichols maintains a Cumulative Survey of Delaware case law relating to alternative entities that is updated annually, organized by subject area and includes most cases that address significant alternative entity issues.

Article

,

Corporate Accountability Report, Bloomberg BNA

,

08.13.2018

In its last session, the Delaware legislature passed a number of amendments to the Delaware General Corporation Law (the "DGCL") and the Delaware "alternative entity" statutes - the Delaware Limited Liability Company Act (the "DLLCA"), the Delaware Revised Uniform Limited Partnership Act (the "DRULPA"), the Delaware Revised Uniform Partnership Act (the "DRUPA") and the Delaware Statutory Trust Act (the "DSTA").

Wilmington, DE (May 31, 2018) - The Legal 500 United States 2018 has ranked Morris, Nichols, Arsht & Tunnell LLP in its nationwide guide to the leading law firms in the United States.

Article

,

Corporate Accountability Report, Bloomberg BNA

,

08.17.2017

Article

,

American Bar Association

,

02.02.2017

Article

,

Corporate Accountability Report, Bloomberg BNA

,

08.17.2016

Wilmington, DE (June 15, 2016) - Morris, Nichols, Arsht & Tunnell LLP has been ranked as a leading M&A law firm in The Legal 500 United States 2016. Now in its tenth edition, the U.S. guide organizes various practice areas into a single national ranking to highlight firms with a national presence in sophisticated and complex matters.

Article

,

American Bar Association

,

02.11.2016

Article

,

Corporate Accountability Report, Bloomberg BNA

,

07.24.2015

In its last session, the Delaware legislature passed a number of amendments to the Delaware General Corporation Law ("DGCL") and to three of Delaware's four "alternative entity" statutes.

Article

,

Financier Worldwide

,

06.2015

It is important to consider how the indemnification regime will be enforced against stockholders of the seller corporation in a private corporation acquisition structured as a merger.

Article

,

Law360

,

08.05.2014

Delaware has furthered its general policy of giving maximum effect to the principle of freedom of contract and to the enforceability of contracts in accordance with their terms by passing legislation that authorizes a statute of limitations of up to 20 years for breach of contract claims. Delaware is the first state to adopt a statute of limitations of this length for breach of contract claims.

Article

,

The Business Lawyer

,

05.2014

Article

,

The Business Lawyer

,

05.2014

Morris Nichols maintains a Cumulative Survey of Delaware case law relating to alternative entities that is updated annually, organized by subject area and includes most cases that address significant alternative entity issues.

Publication

,

PLI Legal Opinions in Business Transactions

,

2014

Louis Hering, Morris Nichols Commercial Law Counseling Group partner, and Melissa DiVincenzo, Morris Nichols Delaware Corporate Law Counseling Group partner, co-authored 2013 Amendments to Delaware's General Corporation Law and Alternative Entity Statutes appearing in the July 19, 2013 edition of Corporate Accountability Report, a publication of Bloomberg BNA.

Louis Hering, Morris Nichols Commercial Law Counseling Group partner, and Melissa DiVincenzo, Morris Nichols Delaware Corporate Law Counseling Group partner, co-authored "Considerations for Contractual Provisions Extending Statutes of Limitations" presented at the 2013 Working Group on Legal Opinions Spring Seminar in New York City, May 14, 2013.

David A. Harris, Louis G. Hering, "2013 Summary of Delaware Case Law Relating to Alternative Entities," 2013 Annual Meeting of ABA, Section of Business Law (Feb. 1, 2013)

Louis G. Hering, "Commentary on Freedom of Contract and Default Contractual Duties in Delaware Limited Partnerships and Limited Liability Companies," The Institute of Delaware Corporate & Business Law, On-Line Symposium: Default Fiduciary Duties in LLCs and LPs (2012)

Melissa A. DiVincenzo, Louis G. Hering, "2012 Amendments to Delaware's General Corporation Law and Alternative Entity Statutes," BNA's Corporate Counsel Weekly, Vol. 256, No. 27 (Aug. 15, 2012)

Article

,

Practical Law The Journal

,

04.2012

Louis Hering, Morris Nichols Commercial Law Counseling Group partner, and associate R. Jason Russell, authored "Series LLC"–appearing in the April 2012 issue of Practical Law The Journal.

Louis G. Hering, "2011 Amendments to Delaware's General Corporation Law and Alternative Entity Statutes," BNA's Corporate Counsel Weekly, Vol. 26, No. 32 (Aug. 17, 2011)

David A. Harris, Louis G. Hering, "2011 Summary of Delaware Case Law Relating to Alternative Entities," 2011 Annual Meeting of ABA, Section of Business Law (Feb. 21, 2011)

David A. Harris, Louis G. Hering, "2010 Summary of Delaware Case Law Relating to Alternative Entities," 2010 Annual Meeting of ABA, Section of Business Law (March 1, 2010)

Commercial Law Counseling Group partner Lou Hering "2009 Amendments to Delaware's General Corporation Law and Alternative Entities Statutes" featured in the August 5 edition of BNA's Corporate Counsel Weekly.

David A. Harris, Louis G. Hering, "2009 Supplement to Cumulative Survey of Delaware Case Law Relating to Alternative Entities," 2009 Annual Meeting of ABA, Section of Business Law (June 1, 2009)

Download PDF

David A. Harris, Louis G. Hering, "2008 Supplement to Cumulative Survey of Delaware Case Law Relating to Alternative Entities," 2008 Annual Meeting of ABA, Section of Business Law (February 1, 2008)  

Tarik J. Haskins, "Recent Case Law Developments Relating to Delaware's Alternative Entities," Delaware Law Review, Vol. 10, No. 1 (2008)

David A. Harris, Louis G. Hering, "2007 Supplement to Cumulative Survey of Delaware Case Law Relating to Alternative Entities," 2007 Annual Meeting of ABA, Section of Business Law (May 29, 2007)    

David A. Harris, Louis G. Hering, "2006 Supplement to Cumulative Survey of Delaware Case Law Relating to Alternative Entities," 2006 Annual Meeting of ABA, Section of Business Law (June 1, 2006)  

Louis G. Hering; Stanford L. Stevenson, III; David A. Harris, "Limited Liability Companies: Legal Assets of Organization," Operation and Dissolution, The Bureau of National Affairs, Inc., C.P.S. 67-2nd. (2006)

David A. Harris, Louis G. Hering, "2005 Supplement to Cumulative Survey of Delaware Case Law Relating to Alternative Entities," 2005 Annual Meeting of ABA, Section of Business Law (August 1, 2005)  
Honors & Recognitions
Chambers USA, America's Leading Lawyers for Business, ranked in Delaware alternative entities, 2006-2023
The Legal 500 US, Leading Lawyer in M&A corporate and commercial Delaware counsel, 2019-2023
The Best Lawyers in America, listed in Delaware corporate law, 2007-2023, commercial transactions/UCC law, 2021-2024, and business organizations 2020-2024. Designated "Lawyer of the Year" in business organizations, 2023
Who's Who Legal: Private Funds, listed in formation, since 2018
Lawdragon 500 Leading Dealmakers in America, included for M&A, alternative entities and Delaware law, 2024
Professional & Civic
American Bar Association (Business Law Section, Committee on LLCs, Partnerships and Unincorporated Business Associations, Single Member LLC Agreement drafting project (Co-Chair), Opinion Committee, Working Group on Legal Opinions (Board of Directors), TriBar Opinion Committee)
Delaware State Bar Association (Corporate Law Section: Partnership and Limited Liability Company Committee (Past Chair), Commercial Law Section: Statutory Trust Committee (Chair))
Clerkships
Law Clerk to the Honorable Carolyn Berger, Delaware Court of Chancery, 1986-1987
Education
University of California Los Angeles School of Law, JD, 1986
Cornell University, AB, history, 1982
Admissions
Delaware, 1990
District of Columbia, 1989
New York, 1987
Chambers USA ranks Lou for his "extensive experience advising MLPs and limited liability companies on the full range of corporate activity" with sources attesting he is "a leader in alternative entities" and "knows Delaware corporate law inside and out."