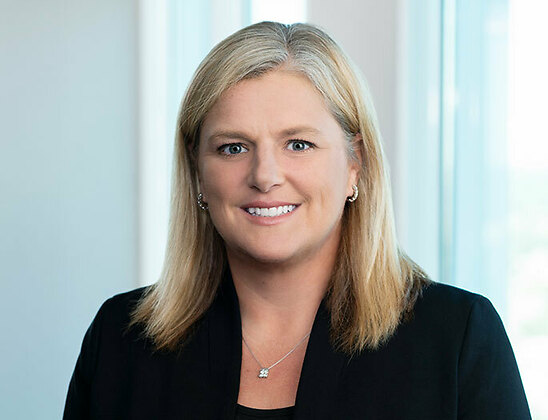 Katherine
H.
Betterly
View All Practices
Kate's practice involves a wide spectrum of national and local transactional matters including business acquisition agreements, financing transactions (including matters involving UCC Article 9), bankruptcy-related transactions and other general contract law matters.
Kate's practice also includes the preparation of Delaware legal opinions in connection with a range of transactional matters as well as representation of clients involved in bank and insurance regulatory matters.
Kate is also a member of the firm's commercial real estate practice, where she focuses on transactions involving the finance, acquisition and development of commercial properties. Kate regularly represents both landlords and tenants in commercial leasing transactions. She also routinely handles issues related to ground leases, construction contracts, easements and licenses. She is a title agent for various national title insurance companies.
In addition to her transactional practice, Kate frequently represents unclaimed property holders. She acts as outside counsel to numerous Fortune 500 companies in connection with unclaimed property audits, compliance matters and voluntary disclosure programs.
Her clients range from large, multinational corporations to local private and governmental entities such as The Delaware River and Bay Authority, The Port of Wilmington, and McConnell Development, Inc.
Kate participates in drafting updates to Delaware's Uniform Commercial Code as a member of the UCC subcommittee of the Commercial Law Section of the Delaware Bar Association. She also devotes a portion of her time to pro bono matters as an attorney guardian ad litem and/or Frazier attorney in the Family Court for the State of Delaware and serves as a member of the Board of Directors of the University of Delaware Library Associates.
From 2020-2022, Chambers USA has ranked Kate among leading Delaware practitioners in the Real Estate area.
Experience
Represented purchaser in acquisition of acrylonitrile manufacturing facility. Handled drafting of acquisition documentation, real estate issues and negotiation of transition and service agreements.
Serves as counsel to owner of 440,000 square feet high rise office building in downtown Wilmington, Delaware.
Represents large regional airport in wide variety of real estate issues, including leasing of airport facilities, federal aid grants and working with the Federal Aviation Administration as well as commercial airlines.
Represents Port of Wilmington in a wide variety of leasing and real estate matters including the acquisition of the Edgemoor facility.
News & Insights
Article

,

Delaware Business Magazine

,

November/December 2022

Kate Betterly and retired partner Don Isken discuss three things commercial property owners should know about Delaware's property tax reassessments.
While not binding on the Court, the recommendation, if accepted, would allow Delaware to Retain hundreads of millions of dollars in MoneyGram teller checks escheated to it as MoneyGram's state of incorporation.

Media Mention

,

Chambers USA

,

06.01.2022

Chambers USA has again ranked Morris Nichols in Band 1 for Bankruptcy/Restructuring, Chancery, Corporate M&A & Alternative Entities, and Intellectual Property.

Webinar

,

Virtual

,

11.17.2021

Kate Betterly will co-present a webinar on Self-Audits.

Media Mention

,

Chambers USA

,

05.20.2021

The 2021 edition of Chambers USA has again ranked Morris Nichols in the top tier in four Delaware practice categories.

Webinar

,

Webinar

,

12.09.2020

Morris Nichols teams with the KPMG National Unclaimed Property practice for a 60-minute unclaimed property webcast.

Speaking Engagement

,

Webinar

,

11.17.2020

Morris Nichols and Ryan LLC discuss the current unclaimed property litigation, audit, and voluntary compliance landscape and potential winds of change that will likely carry over into 2021 and beyond.

Article

,

Delaware Business magazine

,

May/June 2020

For Delaware, the legal home to thousands of "holders," collection of, and fiscal reliance on, unclaimed property has always been tricky.

Speaking Engagement

,

New Orleans, Louisiana

,

03.24.2019 Through 03.27.2019

Wilmington, DE (December 26, 2017) - Morris, Nichols, Arsht & Tunnell LLP is pleased to announce that Kate Betterly, Brian Egan, Michael Flynn and Dan Matthews will become partners, effective January 1, 2018. "We are thrilled that these outstanding attorneys will be partners at Morris Nichols, and we congratulate them on reaching this milestone in their careers," said Rodger D. Smith II, Chair of the Morris Nichols Executive Committee.
Professional & Civic
American Bar Association (Business Law Section, Real Property Trust & Estates Section, and Legal Opinions in Real Estate Transactions)
Committee of 100
Commercial-Industrial Realty Council
Delaware Commercial Real Estate Women
Delaware State Bar Association (Commercial Law Section (Chair, 2011-2013; Vice Chair, 2009-2011; Secretary, 2007-2009), Real & Personal Property Section, Uniform Commercial Code Subcommittee)
Unclaimed Property Professionals Organization
University of Delaware Library Friends (Board of Directors)
Education
University of Pennsylvania Law School, JD, 2001
University of Pennsylvania Journal of International Law, Associate Editor, 1999-2001
Duke University, BA, economics, magna cum laude, 1996
Chambers USA has ranked Kate among leading Delaware practitioners in the Real Estate area.