The Public Benefit Corporation Guidebook
Understanding and Optimizing Delaware's Benefit Corporation Governance Model
The benefit corporation model has emerged in the last decade, having been adopted in a majority of US states, and by over 3,000 corporations. This new governance model broadens the perspective of traditional corporate law by incorporating concepts of purpose, accountability and transparency with respect to all corporate stakeholders, not just stockholders. Delaware, the corporate domicile of most US public companies, adopted legislation authorizing the creation of Delaware public benefit corporations (PBCs) in 2013, and since then, hundreds of PBCs have been formed in Delaware.
PBCs have a critical role to play in the twenty-first century economy. The PBC Guidebook is the first comprehensive treatment of Delaware's new provisions.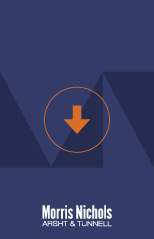 If you prefer a printed version,

click here

to email your request.
About the Author
Frederick Alexander was a partner at Morris Nichols from 1997-2014 drawing upon his decades of practice as a Delaware corporate transactional lawyer, he offers an explanation of the operation of the statute and practical advice for those using it.
Copyright © Morris, Nichols, Arsht & Tunnell LLP. These materials have been prepared solely for informational and educational purposes, do not create an attorney-client relationship with the author(s) or Morris, Nichols, Arsht & Tunnell LLP, and should not be used as a substitute for legal counseling in specific situations. These materials reflect only the personal views of the author(s) and are not necessarily the views of Morris, Nichols, Arsht & Tunnell LLP or its clients.